Navajo will have a meet the teacher event August 8th, more information below.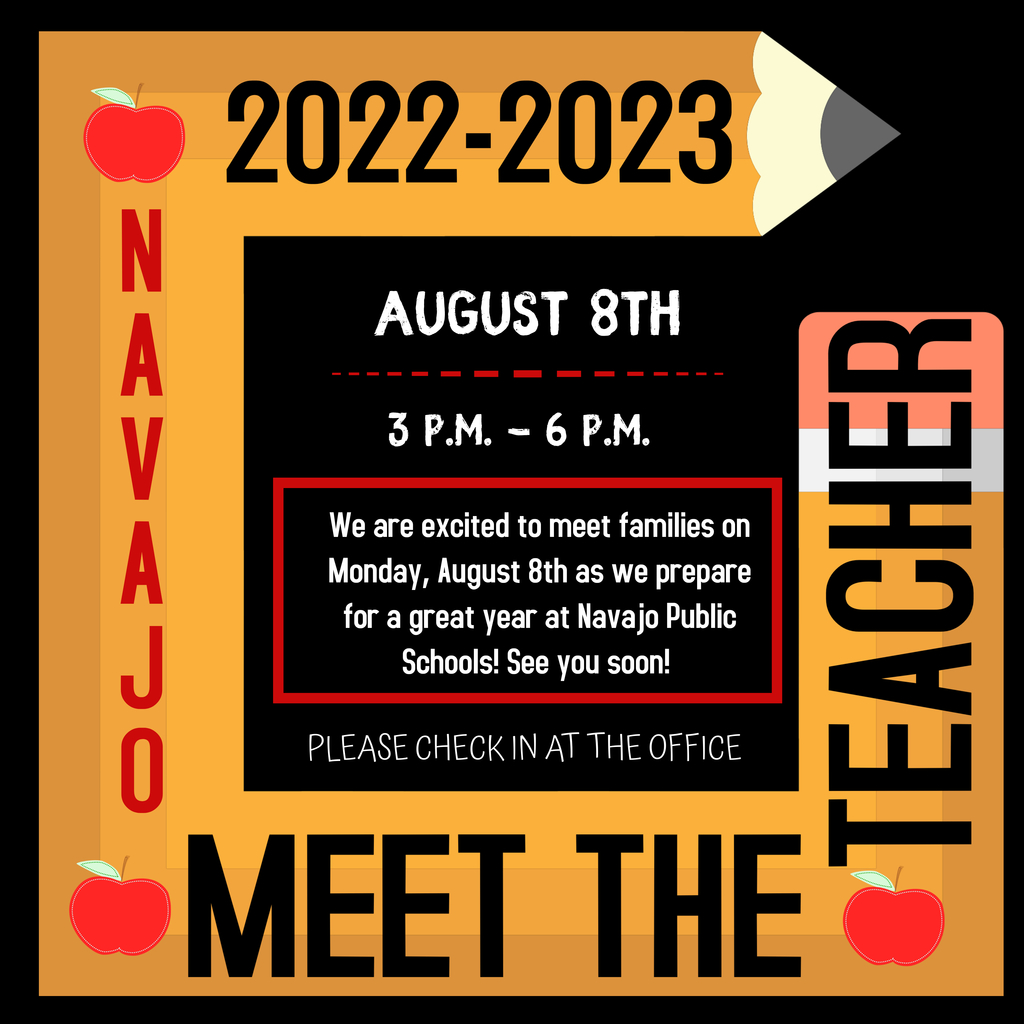 Sports physicals will be offered free of charge to all Navajo athletes going into 7th-12th grades this year. The physicals will be given in the High School building on Saturday August 6th at 9:00 A.M. Parents will need to come with their child in order to fill out and sign everything in the sports packet (Physical, Concussion Form, Cardiac Arrest Form, Biological Sex at birth form, drug testing consent form, and OSSAA eligibility record form). If unable to make it on this date the sports packet is available for pickup at the JH/HS office or can print off online on the website under documents.

The Navajo Elementary supply list for 2022/2023 is available at the following link
https://5il.co/1dhbb
Please note that the items that are currently shown on the list at WalMart.com are not an accurate reflection of this list.

Attention everyone! The groundbreaking ceremony for the new indoor training facility is today June 28th at 5:30 PM. We would like to say "Thank You" to all those who have helped this become a "Dream Come True". We are forever thankful to the Navajo School Board, School Foundation and Donors, Navajo Athletic Booster Club and Donors, and the numerous volunteers who have helped through donating their time, talent, and dedication to this grand project. We appreciate you all!!! Everyone is welcome to come, please join us at the Indoor Facility location- east of the SB/BB Fields, on the Navajo School Campus!

2022 NAVAJO SCHOOL YEARBOOK ORDER INFORMATION... 2022 Navajo School Yearbooks are available to order for $55. Please bring cash or check to the Navajo School Administration Office, Monday-Thursday 8AM-3 PM. Orders will be taken through Friday, August 12, 2022.

Request For Proposal/FSMC Services Request for Proposal (RFP) for a Fixed Price Contract for providing food service management services to the NAVAJO_ School District can be picked up at 15695 South County Road 210 Altus, OK 73521 anytime between 8:00 AM and 3:00 PM Monday-Friday, or can be emailed to you. A pre-proposal meeting will be held on June 15, 2022 at 9:30 AM . Proposals are subject to all the conditions and specifications stated in the RFP and will be received at the address above and shall be marked on the envelope "Food Service Management Proposal #____." Proposals will be received until (July15, 9:30 AM ) for supplying Navajo Public Schools School Food Authority with food service management services during the 2022-23 school year. For more information, you may call Vicki Nance at (580)482-7742.

Attention 7th-12th grade parents: Student grade cards may be picked up in the High School office from 8 AM-Noon through May 27th. Also, if a student didn't receive awards or had a mistake on an award those may be picked up as well. Graduated students may pickup their mini-diploma and picture and turn in Honor Society sashes as well during those hours. Have a great summer!!!


Last week of school activities: Monday- 8th Graders 1st Americans Museum Trip, 4th grade 1 room schoolhouse trip, Athletic Banquet 6:00 PM @ MRBC; Tuesday- Tri-County Elementary Track Meet, Semester Exams (odd hour classes for secondary), FFA Banquet 6:00 PM @ MRBC; Wednesday-Semester Exams (even hour classes for secondary), Elementary Awards Ceremony (1st-3rd-8:30-9:30, 4th-6th- 9:45-10:45), 5th graders base tour; Thursday- Teacher Work Day (NO SCHOOL), Spring Music Concert,; Friday- JH Awards Ceremony- 8:30-9:30, HS Awards Ceremony- 10:00-noon, Buses run at 1:00 PM, HS Graduation- 8:00 PM outside on stage in baseball/softball parking lot- bring your own chair.

Due to the latest information from the National Weather Service, Navajo Public Schools will dismiss one hour early today at 2:00 P.M. Please be at school or bus stops one hour early to pick up your children.

Navajo School is having a blood drive today May 4th in the new gym lobby from 9:00 A.M-2:00 P.M. Donors will receive a t-shirt and choice of tickets to the OKC Zoo, Science Museum, Frontier City, or Safari Joe's Waterpark, and a coupon for a free breakfast sandwich at Whataburger. Walk-ins welcome, please come and help save lives!!!

The Navajo Junior High/High School TSA/History State Capitol Trip has been cancelled for tomorrow, Wednesday, May 4th due to inclement weather in the OKC area.

Navajo HS Softball will play in the State Tournament this Tuesday May 3rd at 1:00 P.M. against Bennington, the tournament will be played in one day. Tickets can be purchased online here for $10
https://gofan.co/app/events/597685?schoolId=OSSAA
or at the gate for $13 cash. The bracket and other information can be found here
http://www.ossaa.net/docs/2021-22/SlowPitch/SP_2021-22_2AStateBracket.pdf?id=4294?id=57
. We will take a fan bus for students in 7th-12th grades and it will leave school at 9 A.M. on Tuesday. More information and permission slip will go out with students on Monday. There will be a send-off in between HS and Elementary buildings at 1:00 P.M. on Monday May 2nd. Come out and support the Lady Indians on their quest for a State Title.

Navajo HS baseball continues play in the Regional Tournament today April 29th against Sterling at 4:00 P.M. in Sterling. Tickets can be purchased online here
https://gofan.co/app/events/604718?schoolId=OSSAA
for $7 or at the gate with cash for $10. With a win, Navajo will play immediately after that game against Hollis. Come out and support the Tribe!!!!

Congratulations to the Navajo Lady Indians softball team for winning the Regional Tournament!! We will advance to the State Softball Tournament at Hall of Fame Stadium in Oklahoma City on Tuesday May 3rd. Information on a fan bus will be posted and go out to students on Monday. The state bracket has not been created yet and will post when it is.


Congratulations to the Navajo Lady Indians Softball team for winning Districts. They will play in the regional tournament next week TBA. Good luck to the Navajo Indians baseball team as they play in the District Championship on Friday April 22nd at noon against Fletcher. Students in 4th-12th grade can go to the game and the cost is $5 for students and adults. Come out and support the Tribe!!!

Good luck to our students who will be competing in the State in Vocal competetion on Friday April 22nd: Taylor Smith, Korie Beason, Elena Shimmin, Makayla Urbina, and Isabelle Gloria. Good luck at State!!!!

Navajo will host the District Softball and Baseball Tournament Thursday and Friday April 21-22. The brackets can be found here file:///C:/Users/DDoss.NPS/Documents/Navajo%20District%20Softball%20and%20Baseball%20Brackets.pdf Admission is $5 for adults and students. Only OSSAA passes are accepted. Come out and support the Lady Indians and Indians in their quest for a District Championship.

Congratulations to the Navajo Shooter Sports and TSA team for making it to the state competitions. The Shooter Sports team will compete in El Reno on Wednesday April 13th. The TSA team will compete in Norman April 13th-15th. We will have a send-off parade for both teams this Tuesday April 12th in between the High School and Elementary buildings at 2:30 P.M. Come out and support these teams on their quest for a state title.