Our boys' and girls' elementary basketball A-team will be playing in the Blair Basketball Tournament finals tonight! They both will play against Altus. The girls will play at 7:00 pm, and the boys will play at 8:00 pm.

The Navajo Elementary Basketball A Team has advanced in the Blair Basketball Tournament. The girls and boys will play ACA on Thursday, Sept. 29th. The girls will play at 7:00 pm, and the boys will play at 8:00 pm.

Our Navajo Elementary Basketball A-Team will participate in the Blair Basketball Tournament this week. Both teams play against Duke tonight. Girls play at 7:00 pm, and boys play at 8:00 pm. Please support our Tribe!

Please vote for our Navajo Celebrity Team Member of the Month! There will be one winner from the junior high/high school and one from elementary. Students, parents, guardians, and community members can vote! Voting ends Wednesday, Sept. 28th. There are two links. One for high school and one for elementary
https://forms.gle/4613nD4LjRcGi3QC6
https://forms.gle/Nq7Nph6m1FkPrgCf6

The Navajo High School Softball girls will be playing in the Regional Tournament on Thursday, Sept. 29th, in Canute. Navajo will play Tushka at 2 pm.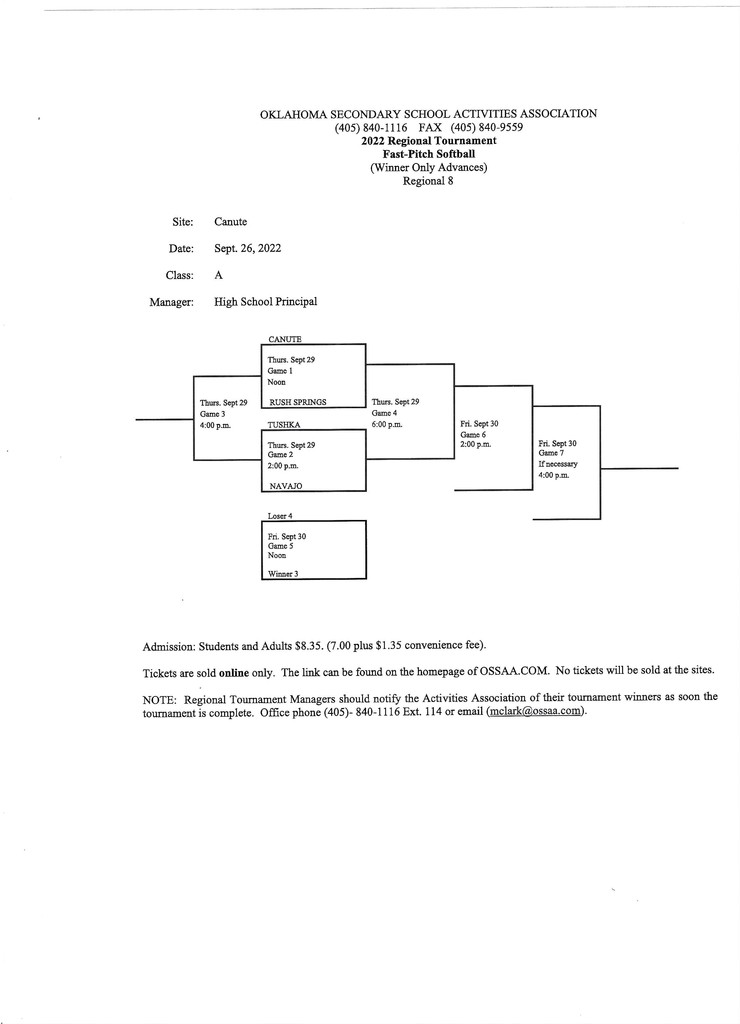 Navajo Elementary girls and boys teams are competing in the ACA basketball tournament finals tonight at ACA. The girls will play against Altus at 7:00 PM and the boys will play against ACA at 8:00 PM. Come out to support our elementary teams tonight!!

Navajo HS Baseball will be playing at 4:00 PM today September 23rd at Sterling against Hydro in the District Tournament. With a win they will play again at 6:30 against Sterling. Navajo HS softball is scheduled to play in the District Tournament here at 10:00 AM against Fletcher. We will play 2 more games starting at approximately 1:00 PM (could be earlier depending on how fast the games go). Admission is $5 for students and adults and only OSSAA passes and uniformed officers get in free. Come out to support the Tribe today!!

Navajo will be hosting the Softball Districts this Friday September 23rd. The schedule can be found here file:///C:/Users/DDoss.NPS/Documents/HS%20Softball%20Districts.pdf Navajo plays against Fletcher at 10:00 AM. and other games TBD. Admission is $5 for students and adults. Students in 4th-12th grades will have the opportunity to go to the games if they bring money for admission. Concession will be available as well.

We would like to invite you to sign up online for a slot to come to Parent Teacher Conferences next Thursday evening September 15th. Time slots range from 3:10 PM to 8:50 PM. If your child is in 7th or 8th grade, signup for a Junior High (JH) slot, if your child is in 9th-12th grade signup for a High School slot (HS) Please take advantage of signing up now from this link:
https://bit.ly/3REv32G
If all slots are full please contact David Doss at
ddoss@navajo.k12.ok.us
to schedule a conference on another day next week.

Navajo HS baseball game time has been moved to 6:00 and 8:00PM tonight in the Weatherford tournament. They will leave at 3:30 PM.

Navajo home baseball and softball games today Monday August 29th!! JH Softball and HS baseball start at 4:30. HS softball and JH baseball will play after those games. Come out and support the Tribe!!! Adult admission is $5 and student admission is $3.

Navajo HS baseball will play in the semifinals of the Arapaho Tournament tonight August 12th at 6:00 P.M. Navajo Softball will continue playing in the Maggie Walker Tournament in Hobart Saturday times TBA. Good luck Indians and Lady Indians this weekend!

We have had an exciting beginning to the first day of school. An exhaust fan motor in the old gym burned up this morning, it is completely under control with multiple fire departments on campus. There is not an active fire and everyone is safe and ready for the first day of school.


Navajo change in school start time this year- 8:00 AM is first bell and tardy bell is 8:05 AM. Students can arrive no earlier than 7:40 AM as supervision will not be available before then. Meet the teacher (Pre K-12) is Monday August 8 from 3:00-6:00 PM. JH/HS students may pickup their schedules at Meet the Teacher. School breakfast/lunch are NOT free this year unless you qualify by filling out the lunch form (will be available at meet the teacher). Please fill out the lunch form as we get more federal money and you have the chance of getting free or reduced meals. The after school program for students in Pre K-8th grade will start August 15th and registration is open now (contact the school for more information). Bus transportation forms and information will be available at Meet the Teacher (most routes will run a few minutes later than last year). First day of school is August 11th, supply lists are available at Walmart for Elementary and Secondary.

New student enrollment at Navajo Elementary School. If you live within the Navajo district and are interested in your child attending Navajo Elementary, but they did not attend Navajo last year, you may come by the elementary office between 8:00 AM and 3:00 PM to complete the necessary paperwork. Please bring your child's birth certificate and an up-to-date shot record. In addition, proof of residence documentation will be needed; a utility bill with your name and address would suffice.


Navajo will have a meet the teacher event August 8th, more information below.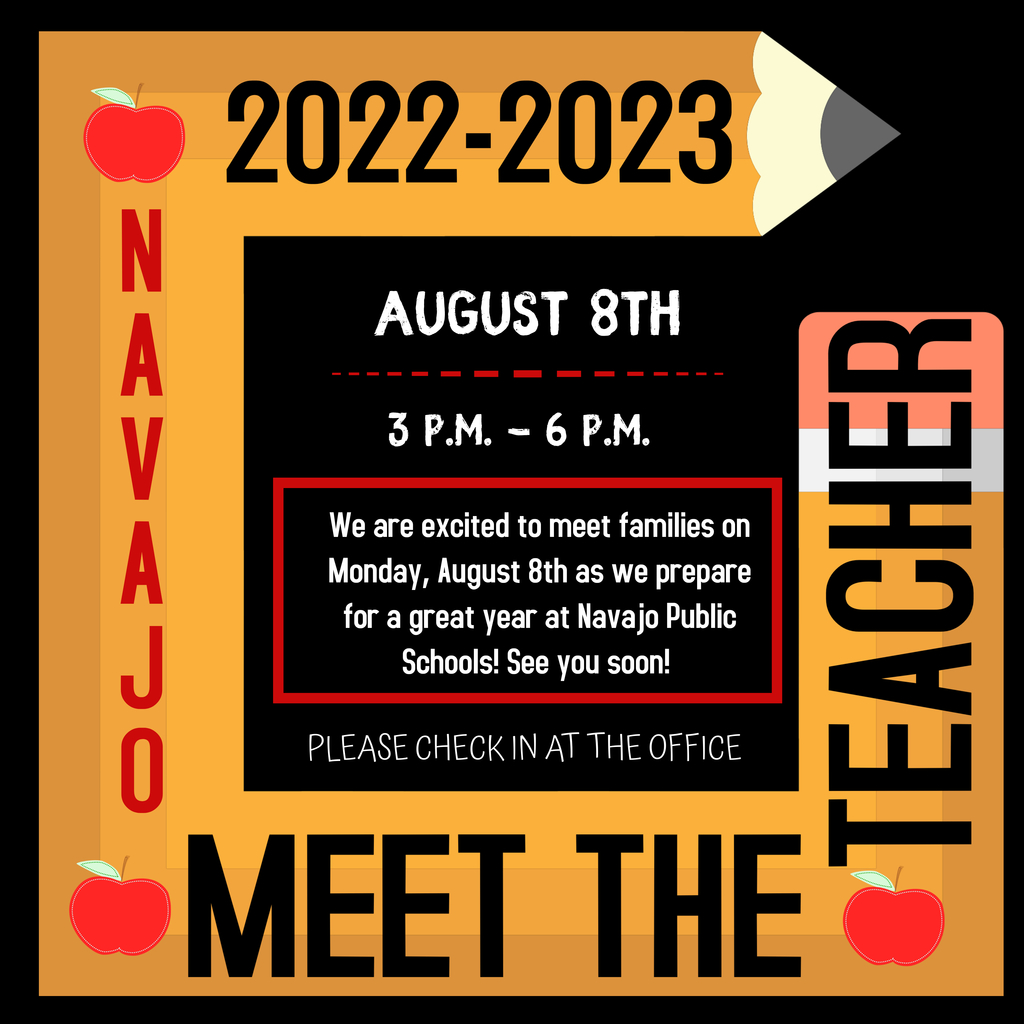 Sports physicals will be offered free of charge to all Navajo athletes going into 7th-12th grades this year. The physicals will be given in the High School building on Saturday August 6th at 9:00 A.M. Parents will need to come with their child in order to fill out and sign everything in the sports packet (Physical, Concussion Form, Cardiac Arrest Form, Biological Sex at birth form, drug testing consent form, and OSSAA eligibility record form). If unable to make it on this date the sports packet is available for pickup at the JH/HS office or can print off online on the website under documents.

The Navajo Elementary supply list for 2022/2023 is available at the following link
https://5il.co/1dhbb
Please note that the items that are currently shown on the list at WalMart.com are not an accurate reflection of this list.